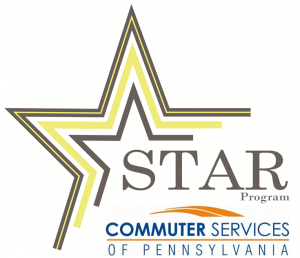 Is your company a shining STAR at providing commuter benefits to your employees?
We want to recognize employers in our region that are taking an active approach in implementing on-site commuter benefits programs to help their employees.  These employers are recognized as part of our
Sustainable Transportation Awards Recognition program!
Interested in being a shining STAR?  Call us at 1.866.579.7433 and visit our Employer Services page here.
Special thanks to the following employers that attended our Awards Ceremony on Friday, June 15th, 2018:
Eurofins Lancaster Laboratories, Diamond STAR
Lancaster General Health, Diamond STAR
Ingram Micro Harrisburg, Platinum STAR
Always Bagels, Gold STAR
Comcast York, Gold STAR
County of Lancaster, Gold STAR
DHL Carlisle, Gold STAR
Dickinson College, Gold STAR
Ingram Micro Jonestown, Gold STAR
Millersville University, Gold STAR
EDSI Solutions Dauphin, Bronze STAR
Geo Group York, Bronze STAR
Reading Health System, Bronze STAR
Tyson Foods, Bronze STAR
YTI York Campus, Bronze STAR
All of our 2018 STARS!
DIAMOND STARS:
Comcast Harrisburg
Eurofins Lancaster Laboratories
Fresh Express
Lancaster General Health
Quality Bicycle Products
Schenker, Inc.
PLATINUM STAR:
Ingram Micro Harrisburg
GOLD STARS:
Alcon
Always Bagels
Amtrak
Bayer Healthcare
Comcast York
Cornwall Manor
County of Lancaster
DHL Carlisle
Dickinson College
Ingram Micro Jonestown
Masonic Villages
Millersville University
Pepsi Bottling Group
PHEAA Harrisburg
PSECU
United Natural Foods, Inc.
SILVER STARS:
EDSI Solutions Berks
Graham Architectural Products
HACC Lebanon
Hollander Sleep Products, LLC
Letterkenny Munitions Center
TE Connectivity Jonestown
BRONZE STARS:
Dart Container
DHL Supply Chain Hershey
EDSI Solutions Dauphin
FedEx Middletown
Geo Group Dauphin
Geo Group York
GEODIS Carlisle
Hilton Harrisburg
Knouse Foods
Perform Group
PHEAA Mechanicsburg
Reading Health System
Sweet Street Desserts
Tyson Foods
YTI York Campus
Photos from our Awards Ceremony on Friday, June 15th, 2018