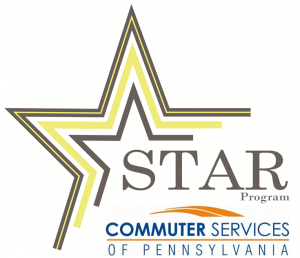 Is your company a shining STAR at providing commuter benefits to your employees?
We want to recognize employers in our region that are taking an active approach in implementing on-site commuter benefits programs to help their employees. These employers are recognized as part of our
Sustainable Transportation Lawards Recognition program!
Interested in being a shining STAR? Call us at 1.866.579.7433 y visit our Employer Services page here.
Special thanks to the following employers that attended our Awards Ceremony on Friday, Agosto 23, 2019:
Colegio Albright
Amazon AVP1
Comcast Cable Lebanon
DHL Supply Chain Carlisle
DHL Supply Chain Newville
DoubleTree by Hilton
EDSI Lebanon
ES3
Tyson Foods
UPMC Pinnacle LVACC
Alimentos Vantage
VF Corporation
All of our 2019 STARS!
GOLD STARS:
Colegio Albright
Amazon AVP1
Chewy.com,en
Delta Dental
DoubleTree by Hilton Hotel Reading
Novitas Solutions
Phoenix Contact
Sweet Street Desserts
United Concordia
Alimentos Vantage
SILVER STARS:
DHL Newville
EDSI Lebanon
PSERS
BRONZE STARS:
Amazon PHL6
Amazon MDT1
Anvil Internacional
Birdsboro Kosher Granjas
C&S Wholesale Grocers
UPMC Carlisle
Chartwell Staffing Solutions Harrisburg
EDSI Cumberland
EDSI York
Foot Locker
GEODIS Carlisle
Gettysburg College
Nacional Center
IWCO directo
Produce de Kegel
Knouse Foods Chambersburg
Manitowoc Cranes
Mattel,en
Menno Haven
MI Windows & Doors
Moravia Manor
Morgan Corporation Denver
Morgan Corporation Ephrata
Multi-Color Corporation
Nationwide Insurance
Quadrant Plastics
Quality Custom Cabinetry
Ross Stores Distribution Center
Skyline Homes
UNFI Harrisburg
Syncreon
TE Connectivity Waynesboro
La Corporación Warrell
VF Corporation
YTI Career Institute Lancaster Campus

Photos from our Awards Ceremony on Friday, Agosto 23, 2019: