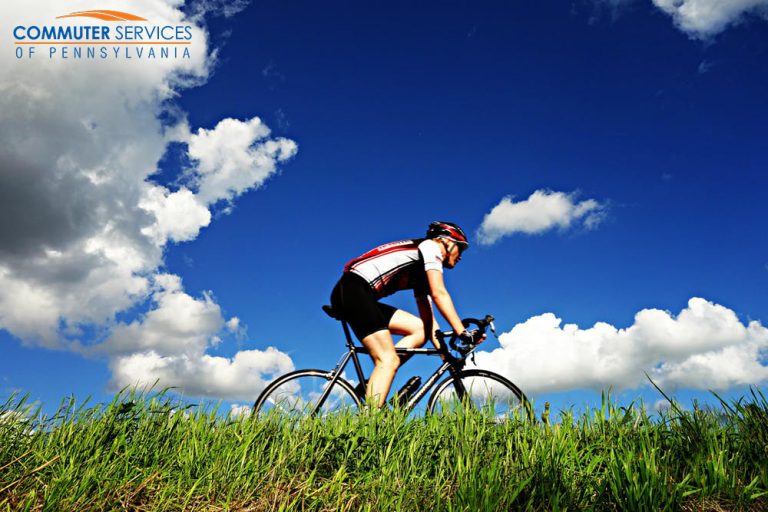 Looking for a new adventure during COVID-19? Have you tried getting out and riding your bike? If not, you should give it a go (from 6 feet apart of course). With the majority of the Commuter Services of Pennsylvania service area under a stay at home order until at least June 4th, now is a great time to go on a new adventure and ride your bike!
According to Genesis Fitness, i whether that be walking, biking, or any activity that gets you moving. These 30 minutes will help boost your immune system and increase your mental and physical health all while enjoying the great outdoors.
Not only can biking be a great way to get exercise, it is another great option besides driving during these times that essential travel is in place. If the trip you need to take for household supplies can be done by riding a bike you, should take advantage of it!
If you are new to biking or you haven't been on a bike in a while, there is no better time than now! Below are four steps from ride-healthy.com to help get your pedal to the metal:
Find an appropriate route to ride 
Practice, build up your confidence, and enjoy the ride
Now is the perfect time to get on the bike and discover new places you have never been before. Whether that be a trail by your house or a new route to travel on your way to work. Biking will be around now and after this virus passes, maybe you will even find a new hobby.
Even though biking is allowed during COVID-19, there are still rules that need to be followed:
No riding in groups

It is okay to ride with people in your household

Skip unnecessary stops

Bring food and water with you
Go to the bathroom before you ride
Bring sanitary wipes for areas you touch

Ride responsibly
Biking is a great activity the whole family can engage with, whether you are a first time biker or have been experiencing the excitement for years, there are always new places to see and explore. Try to make it a mission to schedule a bike trip at least once a week. The more you ride, the more you will want to get others to join you! There are groups on Facebook such as Lancaster Bikes, Franklin County Cyclists, and BikeYork that are waiting to get more people like you to join in their group rides! Connect and reach out to see what your possibilities could be and find out when the group rides begin after the stay at home orders have lifted! Check out our list of bike groups to find one in your area!
Since the beginning of the year, fifty bicycle commuters have tracked over 3,000 bicycle trips in Commute PA and pedaled nearly 13,000 miles! These commuters have saved over $7,000 dollars! Enroll in the free Commute PA program now to start earning rewards for using a green commute mode!
Sign up here to receive our bi-monthly blog straight to your inbox!