Commuter Services of Pennsylvania, in partnership with the National Center for Transit Research (NCTR) at the University of South Florida, has designated seven local employers as "Best Workplaces for Commuters" for 2018. أرباب العمل يتلقون هذا اعتراف وطني لمعايير التميز التي وضعوها في حين تقدم قائمة واسعة من الفوائد للركاب ومجموعة واسعة من خيارات النقل لموظفيها. الشركات الذين يسعون من أجل "أفضل أماكن العمل للالركاب" الوضع يجب أن تفي مجموعة صارمة من المبادئ التوجيهية الوطنية التي وضعتها NCTR. فقط نسبة مئوية صغيرة من أرباب العمل تمتلك البلاد الرغبة والقدرة على تحقيق هذه المكانة استثنائية.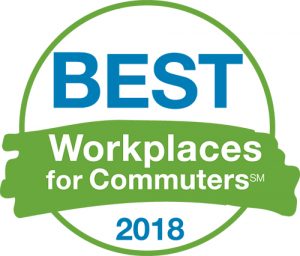 يقر تعيين "أفضل أماكن العمل للالركاب" أرباب العمل الذين قد برعوا في تنفيذ برامج ركاب الخضراء. وتشمل هذه البرامج ridesharing, transit benefits, biking/walking, teleworking, جداول العمل المرنة وغيرها من الاستراتيجيات لإدارة الطلب على النقل تهدف إلى تقليل الازدحام المروري وتحسين مستويات تلوث الهواء المتعلقة بالمرور. من خلال تقديم هذه الفوائد ركاب, these seven employers are committing to regional pollution reduction, أكبر المدخرات الاقتصادية المتعلقة بتخفيف التكاليف وتقليل الإجهاد الناجم عن موظف واحد السفر سيارة الركاب من وإلى العمل. وتشمل أرباب العمل على هذا التقدير: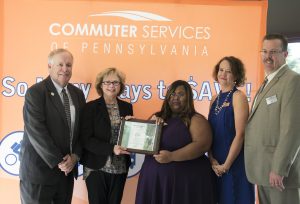 دائما الخبز, Lebanon County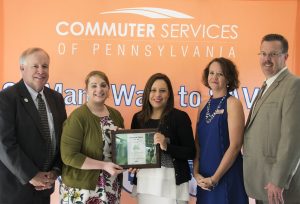 Comcast, York County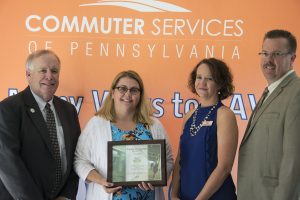 County of Lancaster, Lancaster County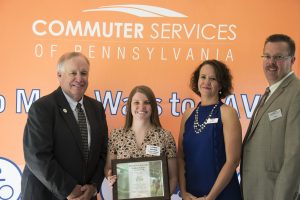 مختبرات EUROFINS لانكستر, Lancaster County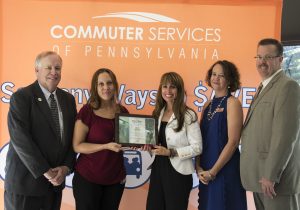 Ingram Micro, Dauphin County
Additional award recipients not pictured:
جديدة اكسبرس, Dauphin County
Hollander Sleep Products, LLC, Schuylkill County
"Best Workplaces for Commuters recognizes employers who offer commuter benefits such as subsidized transit passes, vanpool subsidies, ridematching services or telework programs," said Phil Winters, NCTR's national transportation demand management program director and co-manager for Best Workplaces for Commuters. "Offering commuter benefits is a win-win situation for employees who change their commuting habits save time, money and stress and employers who gain a competitive edge in employee recruiting and retention."
Is your company a shining STAR at providing commuter benefits to your employees? Find out how to help your employees here.