Commuter Services helps commuters find carpool partners (through our confidential ridematching database) and provides advice on successful carpooling (including "Meet Your Match" days at some employer sites). Even carpooling with just one other person could cut your costs in half. If you carpool at least twice a week, we provide you with a reimbursement for an emergency ride home.
Advantages:
Saving money on the commute
Less stressful commuting
Saving money on parking
More free time for riders to read and relax
Reducing pollution from vehicle emissions
Driving less may decrease your auto insurance rates
Choose how your carpool will operate:
One person may drive all the time, while the passengers contribute only to gas and parking.
Participants may take turns driving and not exchange money.
The carpool driver may pick up passengers at their homes, or they may meet at a central location like a park-and-ride lot.
Get Started Now!
Use our Ridematching Registration Form to find a carpool partner. We'll send you a match list containing the names of commuters with a similar commute to yours. Contact people on the list to form a carpool.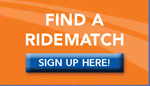 10 Tips to Successful Carpooling:
Determine Your Route and Schedule.

Establish the morning pickup point(s) and designate a place(s) to meet for the trip home.

Draw Up a Schedule for Driving Responsibilities.

If all members of your carpool alternate driving, decide among yourselves if you want to alternate on a daily, weekly or monthly basis.

Establish a Method for Reimbursing Driving Expenses.

If the members of your carpool do not share the driving equally, come to an understanding of how the costs will be shared and agree on payment dates.

Be Punctual.

Decide how long the driver is expected to wait.

Establish Policies.

Smoking or non-smoking? Music and volume? Food or drinks? Your carpool will have a better chance of success if potential differences are avoided before you drive off.

Make Carpooling Serve One Purpose.

If it is for commuting to and from work: don't let it become a shopping or errand service.

Establish a Chain of Communication.

If a driver is ill, or will not be going to work one day, determine how the alternate driver should be notified to ensure that other carpool members have a ride or make other arrangements.

Drive Carefully and Keep the Vehicle in Good Repair.

Keep the vehicle clean and safe. Drive safely. Obey the traffic laws.

Respect Your Fellow Carpooler's Wishes.

For example, many people like more quiet during the morning drive.

If a Rider Drops Out of Your Carpool, Call 1.866.579.RIDE for Help Finding a Replacement.

Together we can save money, time and the environment while reducing traffic congestion.
What if I Can't Find a Suitable Match on my List?
If you've called the commuters on your match list, but you could not find a carpool partner, don't worry! Many new commuters are added to our database each month. Just call us and ask for a new match list. Commuter Services may send you an updated match list a few times throughout the year, but it is best to contact us when you would like to see your updated matches.
What if I Need to Get Home for an Emergency?
The Emergency Ride Home Program provides you with a reimbursement for a ride home in the event of an emergency, for example if you need to take a taxi. By going to the Emergency Ride Home page, you can sign up online and view information about the program. If you are in the Commuter Services database to receive carpool or vanpool matches, you already are automatically enrolled in the emergency ride home program.