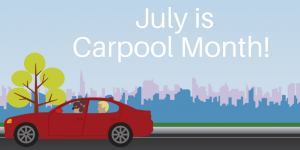 Find your carpool partner now to participate in Carpool Month in July!  You can create a FREE profile in Commute PA to find a carpool partner that lives and works around you.  Potential carpool partner matches can be contacted instantly through Commute PA, it is that simple!
From there, you can have a conversation about the details of the carpool and try it out to see how it works!  Not only will you be able to save money on gas and wear and tear but also meet a new friend too!  Check out our commute calculator to see how much you currently spend on your commute!
If you do carpool more than two times a week to work, you will be eligible for our FREE Emergency Ride Home program, in case you get sick, have to take care of someone else that is sick or have unexpected overtime.
Find your carpool partners now to log your carpool trips for work or leisure in Commute PA and not only be able to redeem points for rewards but also be entered to win your choice of a $25 gift card to Target or Sheetz.