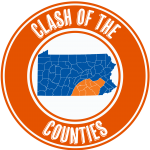 Join other regional counties within the Commuter Services coverage area for a friendly competition!  It's time to travel green to work and track your trips!
WHEN? November 2020
Week 1 – (11/1-11/7)
Curious how to participate in "Clash of the Counties"?
Check out these green transportation resources below to help you choose the best option!
Active Transportation (walking / biking)
Week 2 – (11/8-11/14)
Do you have a Commute PA account?
Review these "How-to Videos" on Commute PA, which is a rideshare and rewards program. Not only will Commute PA provide you with the resources to participate in "Clash of the Counties", you'll have access to an Emergency Ride Home program AND rewards! 
Week 3 – (11/15 – 11/21)
Now's the week to put these resources into action! Participate in "Clash of the Counties" by recording your green trips during the week of 11/15!
We realize each county in our coverage area is a different size. The county location with the highest percentage of employees to record green trips in Commute PA will receive special recognition and bragging rights! Additionally, one lucky participant will win a $50 gift card to Amazon!
Follow these steps if you want to participate in "Clash of the Counties":
To receive reminders, pledge to participate below
Complete your profile on Commute PA by listing your employer (the county you work at).
Look for details on how and when to record your participation.
It's that easy!