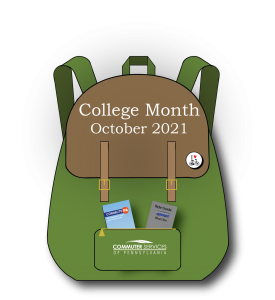 During the month of October we are encouraging local colleges/universities to participate in our College Month promotion The purpose is to have students, faculty and staff switch from driving alone to trying a green options as a way to get around and record their green trips.
All you need to do is try a green commute (compartir coche, use tránsito, bicicleta o caminar) and then log your commute in Commute PA, our Rideshare and Rewards program. Participants will be entered to win a $25 Dunkin Donuts gift card or a $50 Target gift card!
Clic aquí to create your Commute PA profile and start recording your trips!
Visit our social media pages and post pictures or video using a green commute, include #pacommuters, tag us and your school hashtag to show your school spirit!