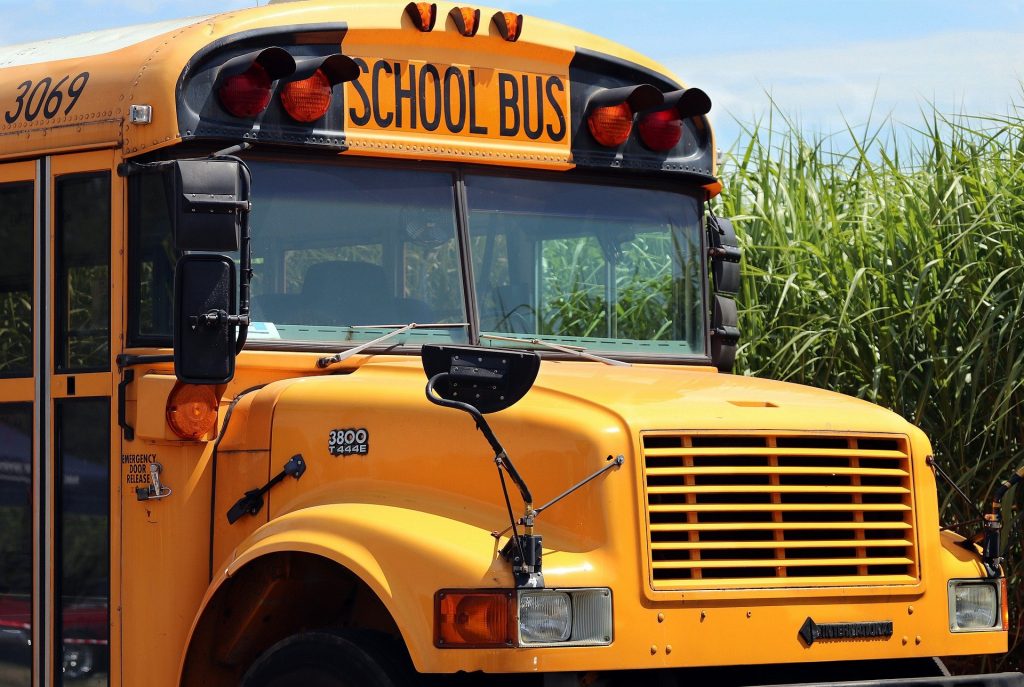 Back to School Cool
School is back in session for some of our kids and now is a good time to talk about school bus safety.  According to the National Highway Transportation Safety Administration "The greatest risk to your child is not riding a bus, but approaching or leaving one. Before your child goes back to school or starts school for the first time, it's important for you and your child to know traffic safety rules. Teach your child to follow these practices to make school bus transportation safer."   
School busses are yellow for a reason, to make them highly visible. They use their stop signs and flashing lights to alert people to their stops. If you're like me, you might have accidentally driven by a suddenly stopping bus bleary eyed and coffee deprived at 7 in the morning. But our children are our future and we need to protect them. In Pennsylvania, there are strict rules and regulations for blowing past a school bus. If I had been pulled over that morning, I would have gladly paid the fine.
PennDOT says:
The penalties if convicted of violating Pennsylvania's School Bus Stopping Law include:
•$250 fine
•Five points on your driving record
•60-day license suspension
The danger is real for our children.  "More school-age pedestrians have been killed from 7 a.m. to 8 a.m. and from 3 p.m. to 4 p.m. than any other time of day, NHTSA says. Make sure you're not part of the problem." Consumer Reports has a great list of tips and regulations for navigating back to school driving for both commuters and students. 
PennDOT gives the following guidance for school bus riding:
Please take a moment to review the following safety tips to help ensure our children arrive to and from school safely each day:
•Get to the school bus stop five minutes early, so you won't have to run across the road to catch the bus.
•When waiting for the bus, stay away from traffic. Line up at least five giant steps away from the curb or the roadway to wait for the bus.
•Never run after the school bus if it has already left the bus stop.
•Never push when getting on or off of the school bus.
•Always walk at least 10 feet in front of the bus when crossing so that the school bus driver can see you.
•Be aware – Cross with Care! Wait until the school bus has stopped all traffic before stepping out onto the road.
•When the school bus is moving, always stay in your seat. Never put your head, arms or hands out of the window.
•Talk quietly; do not distract your school bus driver.
•If your school bus crosses railroad tracks, be calm and quiet so that your driver can listen for a train. Always obey your school bus driver's instructions, so that he or she can make safe decisions.
•Never play with the emergency exits. Backpacks, band instruments, or sports equipment may not block the aisle or emergency exits. If there is an emergency, listen to the driver and follow instructions.
•When getting off of the school bus, make sure that all drawstrings and other loose objects are secure so that they don't get caught on the handrail or the door.
•Never cross the street behind the school bus.
•If you leave something on the bus or drop something outside of the bus, never go back for it. The driver may not see you and begin moving the bus.
•Never speak to strangers at the bus stop and never get into the car with a stranger.
For more activities to engage your children in school bus safety, download this activity packet.  It will help you start a conversation with your kids about how to stay safe on the roads.  For the latest updates on transit and school bus guidelines related to COVID-19, visit the CDC.