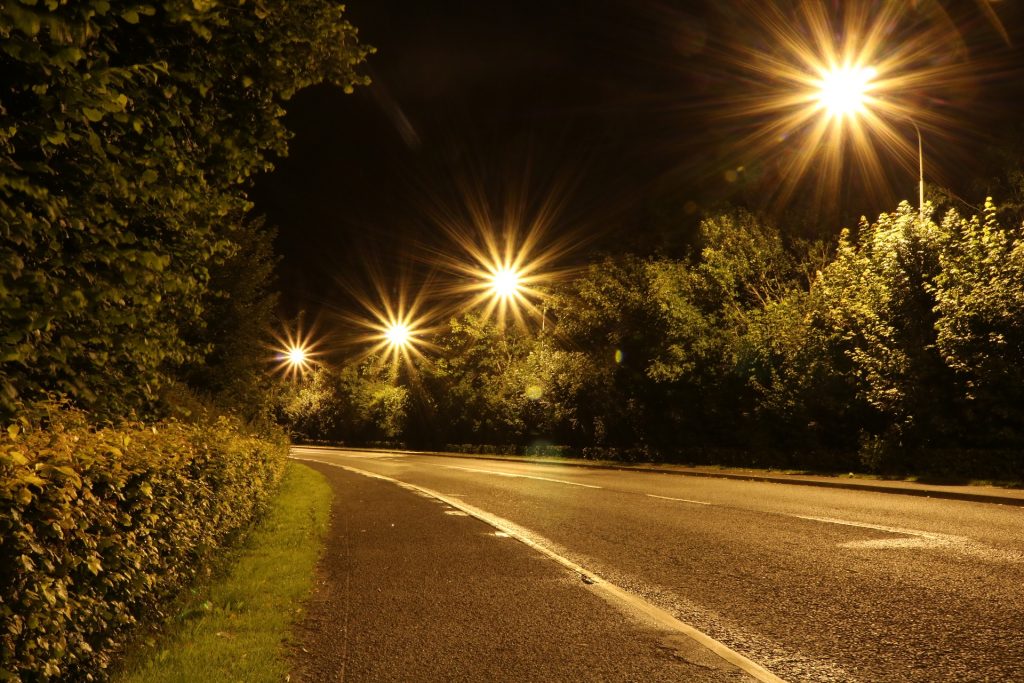 Into the Dark
Did you remember to "Fall Back" this weekend?  As the year moves into shorter days, now is the time to start thinking about commuting safely in the cold, dark winter months.  Whether you are driving, walking, biking, or riding transit, we want to make sure that you are safe and protected and visible in the early morning and evening darkness. 
When you are driving in the dark, you might find yourself struggling with lanes, safety, and sight line.  It's important to know what you are getting into.  One of the first things they teach you in Drivers Ed is to look down and to the right, away from the double line and towards the right line.  There is more to think about than that though.  You need to make sure your headlights, brake lights, and other car lights are in working order.  A pair of yellow tinted glasses may help clear your vision.  Be sure your windshield wiper fluid is filled so that you're ready to go for mist, fog, and sleet. 
"Windshields that appear clean during the day may reveal streaks that can cause glare at night. A detailer's trick is to polish glass with newspaper to remove residue. Try not to touch the inside surfaces of your windshield, side windows, or mirrors with your hands, even if it's to wipe off mist."  For more tips on keeping your car safe and sound in the dark, check out these tips from Popular Mechanics.
Riding a bike in the dark?  Don't worry, we have you covered!  Don't forget your lights and reflective gear.  Check out these tips from respected outfitter REI for keeping safe while on the road or trail in the dark:
If you're a biker, don't forget that you are a vehicle on the road!  You are subject to the same rules of the road as a car.  Don't drive in the dark in dark clothing.  What you need is a variety of safety lights to keep you safe.  
Rear safety lights can be mounted on your pack, pocket or seatpost. Some can also be mounted on the back of rear bike racks.
Side safety lights usually mount on either spokes or frames.  Spoke mounted lights are especially visible because they clearly show your wheels in motion.
If you didn't know, PennDOT has a law that gives bicyclists 4' of clearance on all roads.  Drivers may legally cross the double yellow lines when safe to give room for cyclists. 
Okay!  You know how to drive and ride in the dark.  But what if you don't have a bike or car?  Maybe you are close enough to work to walk.  That's great!  However, not everyone lives somewhere with streetlights or sidewalks.  What's your next move?  #1 suggestion – remember to wear something reflective!  Also, if you don't have a safe sidewalk, remember to walk towards traffic so that the oncoming cars can see you. 
I clearly remember driving my kids to school last fall after the time change at 7:15 in the morning darkness on a major road that was undergoing construction.  You know how it is, you're dodging the construction potholes and asphalt mountains.  Out of the corner of my eye, I saw a man walking dressed in all black in the dark on my passenger side.  It could have been much worse than giving my sons a lecture on pedestrian safety.  Fortunately, I saw him and didn't have an avoidable accident – otherwise I may have swerved to miss a pothole and had one of the worst mornings of my life. 
For tips on safe walking guidelines, check out this website.
No car?  Too far to walk?  Riding the bus or transit?  How can you be safe there?  Did the bus pass you by in the dark?
According to a longtime transit driver, there are many reasons a bus might not stop for you.  "It is one of the worst feelings: you're trying to catch a bus. Maybe you've been waiting at a stop for 20 minutes, maybe you've been walking for that long just to get to your stop. Finally you see it approaching, and your stress level suddenly drops as your wait time and travel time has suddenly become a lot less vague and unknown. And then – oh no! – the bus drove right past me without stopping! Why?!?"
There are many reasons!  The most likely is that you weren't visible enough.  Don't hop out from behind a tree or bush!  Wear reflective clothing or gear and if necessary, wave a flashlight if your stop isn't well-lit by streetlights.  Make sure you check the schedules, especially in the age of COVID-19, to make sure your bus is actually coming when you expect it. 
Some vital takeaways for commuting in the dark:
 Be prepared with proper clothing.
Make sure your phone is charged and someone knows where you are and when you are expected home. 
Get your gear up to par and ready for the road – whether that's windshield wiper fluid, a safety vest, or a bike brake tune up. 
Like the Boys Scouts say – Always be prepared!
For more information on commuting options, visit Commuter Services of PA and sign up for our free program Commute PA to learn about rideshare matches, transit options, walking tips, and our emergency ride home program.