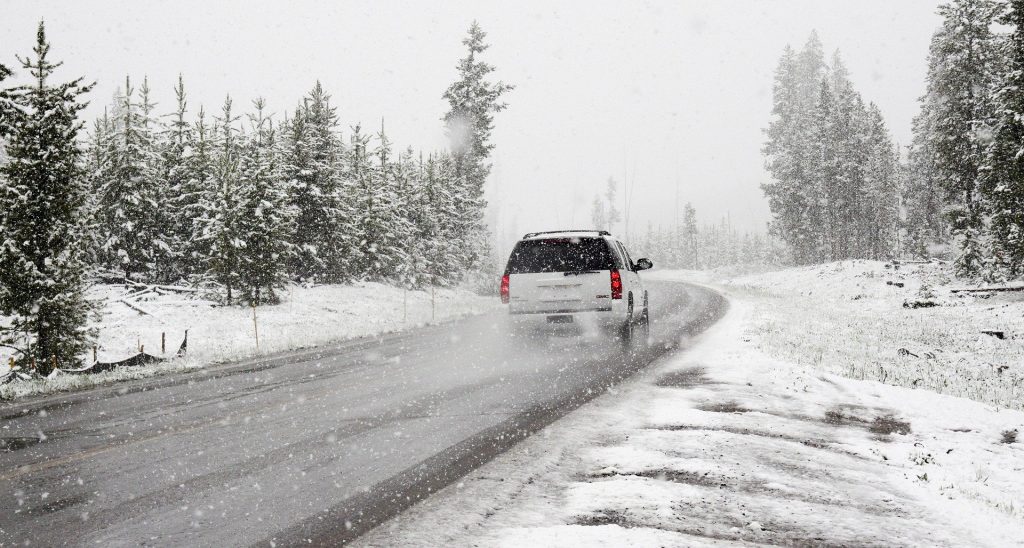 Oh, Ho, Ho, Here Comes the Snow!
Whether you love it or hate it, winter weather is on the way.  Snow, sleet, freezing rain, and black ice are right around the corner.  Now is the perfect time to make sure you and your vehicle are ready to be safe and sound in the inclement weather. 
According to PennDOT, "Preparation is one key to successfully navigating winter roads. Winter weather can bring unexpected conditions, so make sure that both you and your vehicle are ready for ice and snow."  So, as the Boy Scouts say – Always be prepared!  Commuter Services is here to help you prep for winter with tips and guidance on how to be ready as winter creeps its icy hands into the region. 
There are two types of Emergency Car Kits.  There's your standard car kit, which ReadyPA advises to include items such as a cell phone charger, water, first aid kit, tire gauge, jack and lug wrench, spare tire, flares, and jumper cables.  These are basic car necessities for the possibility of breaking down or getting a flat tire.  Check out their website for the complete list. 
However, winter driving calls for some different items and protocols.  Winter storms can change in a moment and you'll want to have everything you need to survive on the unpredictable roads.  Travel in PA has a comprehensive list of items:
Warm clothing and gloves
Blanket
Chemical hand warmers
Ice scraper
Sand or cat litter
Cellphone and car charger
Flashlight
Jumper cables
Small shovel
First aid kit
Water
Nonperishable food
They also recommend that you carry any additional items particular to your family needs – things like pet food, baby food, formula, emergency diapers, etc.  Good choices for nonperishable foods would be granola bars, trail mix, beef jerky, and juice boxes.  Sand or cat litter might just get you out of a stuck situation with the help of your shovel.  A few pieces of cardboard might also come in handy to wedge under your tires to get traction in slippery situations. 
Now that you have your Emergency Kit ready to roll, it's time to get your car ready too.  No one looks forward to car repair bills.  However, safety is extremely important no matter the cost.  PennDOT's Winter Preparation page recommends the following precautions:
Check that your fluid levels are full.
Make sure your wipers don't streak. You may want to consider installing winter wiper blades.
Ensure your heater and defroster are working properly.
Check that your vehicle's radio is working properly so you can receive weather and traffic reports.
Make sure all lights are working.
Check to be sure tires are properly inflated and have sufficient tread depth.
If you live in an area prone to heavy snow, you may want to use dedicated snow tires on your vehicle or carry a set of tire chains. At a minimum, your all-weather tires should be mud and snow rated.
Depending on where you live you may want to consider a 4 wheel or all wheel drive car.  I live on one of the steepest hills in my city.  When we first moved into our home, we had a little low-profile tire car.  Needless to say, after the first winter of parking on the cross-street half a block away and trying to slip up the hill on foot with groceries, we traded up to an AWD so we could actually park in front of our house.
The National Highway Safety Transportation Administration (NHSTA) takes it a step further.  Their recommendations include reading your full vehicle owner's manual so you know what to expect in wintery conditions, checking your battery life, properly installing floor mats, and checking for any safety recalls that may affect your vehicle's ability to perform optimally. 
NHSTA also says, "Before heading out, make sure to check the weather, road conditions, and traffic. Don't rush through your trip, and allow plenty of time to get to your destination safely. And always familiarize yourself with directions and maps before you go, even if you use a GPS system, and let others know your route and anticipated arrival time."  This is important, because if the worst happens, it will help emergency responders find you since they know the route you were taking and your estimated time of arrival.  If you are driving a hybrid or electric vehicle, the cold weather can zap your range much quicker than in warmer months.  Make sure you're fully charged before leaving and where your charging station options are along the way to your destination. 
If you need help planning your route, you can always log into Commute PA and use our new route planning feature.  It will help you find a ride match to work or a single destination – particularly useful if you don't feel comfortable driving in the snow or ice you might find a carpool partner that does!  And if that doesn't work for you, you can always check out our complete list of transit routes for your area.  Stay safe and warm out there this winter!