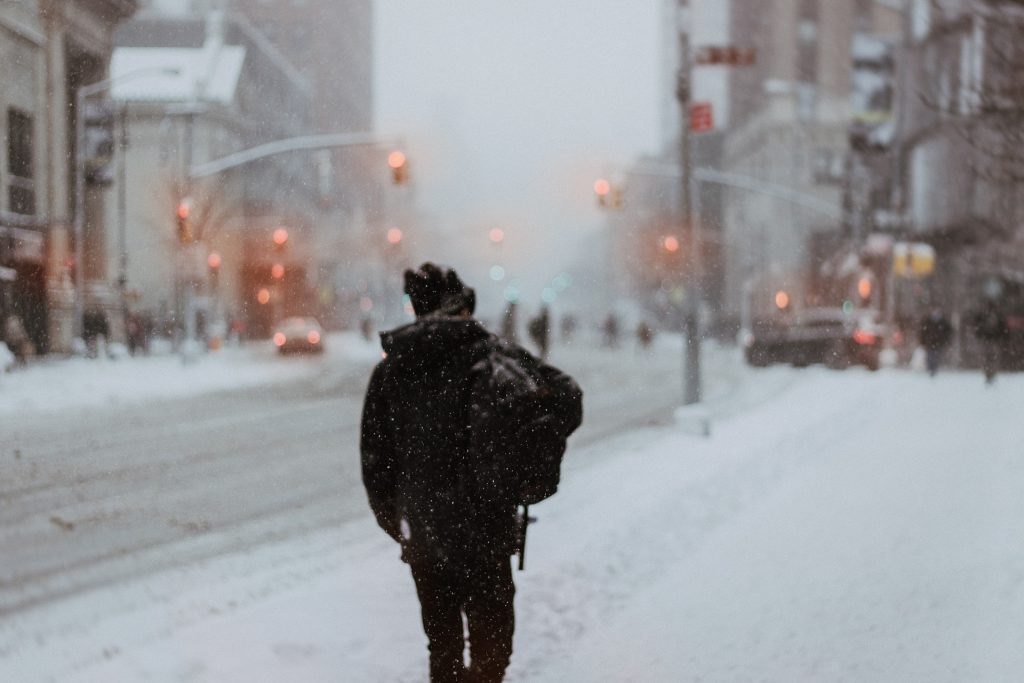 Walk Safe in Winter
After a few years with little to no snow, we've been hit by Snovid! Nhờ, 2020! But seriously, it's important to take extra time and extra precautions when the weather is looking less than delightful. When you are walking, you need to be prepared. Whether you walk for pleasure, your commute, or from your car to your home, read on for tips on how to stay safe as a pedestrian.
PennDOT says, "Each day, pedestrians must worry whether drivers are paying attention to the road and those around them. Winter brings additional challenges for pedestrians, including cold weather, icy sidewalks, snowstorms and fewer hours of daylight."
As I mentioned before, I live on an incredibly steep hill. My husband used to commute by foot 4 blocks to his office regardless of the weather. We quickly learned a lot of tips to make sure he was as safe as possible while walking.
Iowa State University recommends the following steps:
Plan ahead

,

give yourself sufficient time and plan your route

.

Traffic moves slowly in snowy conditions

.

Wear shoes or boots that provide traction on snow and ice

.

Footwear made of rubber and neoprene composite provide better traction than plastic and leather soles

.

Use special care when entering and exiting vehicles

,

climbing or descending stairs

,

entering or leaving buildings

.

Walk on designated walkways as much as possible

.

Don't take shortcuts over snow piles or areas where snow and ice removal is not feasible

.

Walk safely on snow or ice

.

Take short steps or shuffle for stability

.
You can also practice the "penguin walk" by taking short, waddle steps. Keep your body over your feet and don't lean back or forward. University of Rochester suggests adding a pair of traction cleats for added protection. We found these especially useful for hill life. You simply stretch them over the bottom of your boots and away you go.
PennDot has a comprehensive list of tips for pedestrians and motorists during the winter months. One important point is "Make Eye Contact with Drivers – Remember, the roads may be slippery for drivers in winter weather. Have eye contact with the driver and make sure vehicles come to a complete stop before you proceed to cross." Also, be prepared with proper clothing. Layer up, grab your gloves and hat, and check the forecast before you head out on your walk.
Remember the rules of the road and the sidewalk. PennDOT has advice on rules and tips for safety:
LAW

:

Walk on sidewalks whenever they are available

.

If no sidewalk is available

,

you must walk on the left side of the road

,

facing traffic

.

TIP

:

Never assume a driver sees you

.

Make eye contact with drivers as they approach you to make sure you are seen

.

LAW

:

Motorists must yield to pedestrians crossing the street at marked and unmarked intersections BUT the pedestrian must either be within the crosswalk or affirmatively indicate an intent to cross

.

TIP

:

Be visible at all times

.

Wear reflective materials

,

apply reflective tape

,

or use a flashlight at night

.

TIP

:

Cross streets at crosswalks or intersections whenever possible

.

LAW

:

Pedestrians shall not suddenly leave a curb or other place of safety and walk or run into the path of a vehicle which is so close as to constitute a hazard

.

TIP

:

Keep alert at all times

.

That means putting away your electronic devices so you can stay focused on the road

.
All these points can help you, your kids, and your family stay safe while walking during the cold weather. For more advice on pedestrian safety, check out our Walk Like a Boss blog and don't forget to record your trips in Commute PA to earn rewards for your green commutes!