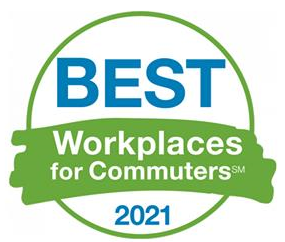 Be a STAR with Best Workplaces for Commuters – Heather Klinefelter, Outreach Specialist
We hear it from employers all the time.  Employees find commute times to be brutal.  Depending on where you live – driving up to an hour to a larger city for work or even just across town – most commuters say that they don't want to spend more time commuting to work.  There's a better way.  Offering commuter benefits helps with employee retention and satisfaction.  One way to do that is with the Best Workplaces for Commuters program.  This year Pennsylvania placed in the Top 10 Nationally!
"Best Workplaces for Commuters (BWC) is an innovative membership program that provides qualified employers with national recognition and an elite designation for offering outstanding commuter benefits. Employers and developments that meet the National Standard of Excellence in commuter benefits can get on the list of Best Workplaces for Commuters. We're passionate about helping workplaces improve their performance of commuter programs via listserv to foster peer-to-peer exchanges, FAQs, employer case studies, webinars and other resources."
Congratulations to the 2021 winners in PA:
DHL Supply Chain (Newville)
DHL Supply Chain-Carlisle (Carlisle)
Eurofins Lancaster Laboratories (Lancaster)
Tyson Foods Inc. (New Holland)
WebFX (Harrisburg)
CNBC notes "Human resources consulting firm Robert Half surveyed over 2,800 Americans across 28 major U.S. cities and found that 23 percent of workers have quit a job because of a bad commute. Chicago had the largest number of workers who said they had left a job because of a bad commute, followed by Miami, New York and San Francisco."  According to the US Census "New survey data show the average American's commute inched up to 26.9 minutes from 26.6 minutes the previous year, according to the U.S. Census Bureau's 2017 American Community Survey.  That 18-second increase may seem small, but it totals an extra two and a half hours on the road for Americans last year, according to the Washington Post.  Total commute time has been steadily rising, with more than 14 million people now spending an hour or more traveling to work in 2017." 
So how do you retain employees and reduce their commute stress?  Best Workplaces for Commuters may be the solution!  The benefits of a comprehensive commuter plan for your staff has benefits for both commuters and employers.  BWC provides guidance and recognition.  "As a professional in human resources, finance, communications/public relations, or environmental management, you seek innovative solutions to your everyday goals and challenges. Whether you are concerned with employee job satisfaction, company finances, maintaining a positive organizational image, or improving quality of life in your community and the global environment, Best Workplaces for Commuters is a natural choice to meet your needs." 
Amanda Dioszeghy, Sustainability Project Manager at our partner organization Eurofins Lancaster Laboratories, Inc. explains the benefits of sustainable commutes:
The benefits of sustainability can often be difficult to quantify to shareholders. Our membership with Best Workplace for Commuters has helped us gain recognition for the investments we've made in green transportation for our employees to commute to work. This annual award is one way we can report on our continued commitment to break down barriers to green commuters. It's a smooth process to apply each year as Commuter Services of PA is always quick to assist with any questions or data needed. Further, the membership is a much lower cost than industry standards and has been consistent for years. It's a great tool to further highlight the achievements of our sustainability efforts. 
Whether that is pre-tax deductions, carpool parking, rideshare matching, telework policy review, transit route connections, or access to an Emergency Ride Home program – Commuter Services is here to help guide you through the steps you need to create a green commute program for your employees.
Commuter Services also runs our own local program known as STAR.  Sustainable Transportation Awards Recognition is how employers can achieve bronze, silver, gold, platinum, or diamond status based on a variety of transportation activities and on-site commuter benefits – all of which we provide the resources to do!
If your company is ready to take the next step to instituting a commuter benefits plan, Commuter Services of PA is here for you!  There are multiple benefits to these programs.  For more information on STAR or BWC, reach out to us and schedule a call or virtual meeting!  We're happy to help improve your transportation issues and your employee satisfaction while saving your organization money and time!  Customer.Service@PaCommuterServices.org