Transit for Senior Citizens & Handicapped: An Area Guide – Heather Klinefelter, Outreach Specialist
Did you know if you are a senior citizen or in need of ADA assistance, the local transit agencies can help you?  Often referred as paratransit, we prefer the term shared ride.  From CAT Regional Transit – "Shared Ride is bus service that provides consolidated trips between customers' origins and destinations that are not well served by scheduled route bus service.  Shared Ride operates during limited hours and specific travel areas."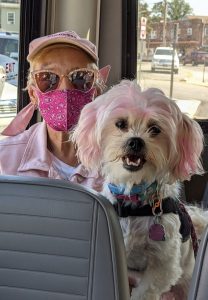 "I love the bus!  I have a car but I'm not putting the money into it.  I'm a senior citizen!"
Sandy & Mia, the Service Dog
Shared ride service helps those who need qualified with transportation to doctor's appointments, groceries, and more.  You simply need to sign up and schedule a ride.  Those with ADA requirements are also eligible.
According to rabbittransit, "Mobility is an essential need in order to experience a high quality of life. rabbittransit dedicates itself to providing its constituents safe, reliable and customer centered mobility services consistent with the stewardship of its resources."
What makes mobility so essential?  Without the ability to move around town, a person cannot live their life independently and fully.  After a short application, you can qualify for free rides.  It's as easy as that.
CAT describes it as the following:
There are many individual programs within Shared Ride service. Each of these is governed with a different set of regulations, funding sources, reporting standards and service delivery guidelines. No two passengers' trips or experience are the same.
Paratransit transportation is available for seniors, persons with disabilities, persons with mental health/intellectual and developmental disabilities and those willing to pay full fare who do not qualify for other funding sources.
If you or someone you know is in need of transportation help, paratransit and shared ride service is there for you!  Rides must be scheduled in advance, and remember, it's not like a taxi – you might be sharing your ride with others or experience some waiting time.
To apply for the program, click on the links below.
CAT – serving Dauphin County & surrounding areas – apply HERE
rabbittransit – serving York, Adams, and more – more info HERE
Lebanon Transit – serving Lebanon & surrounding areas – apply HERE
BARTA – serving Reading & surrounding areas – apply HERE
Red Rose Transit – serving Lancaster County & surrounding areas – apply HERE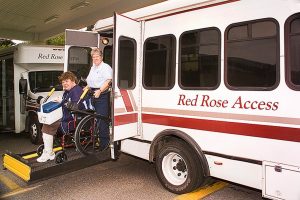 Request your ride up to 2 weeks in advance and make sure you get to your appointment on time.  You and your loved ones are able to be mobile and live your best life.  If you have any questions, we can put you in touch with your local transit agency.  Email me for more information!
Don't forget to record your green transit trip in Commute PA to earn rewards and see how much CO2 you can personally take out of the air.  We need your help and together we can make it happen!