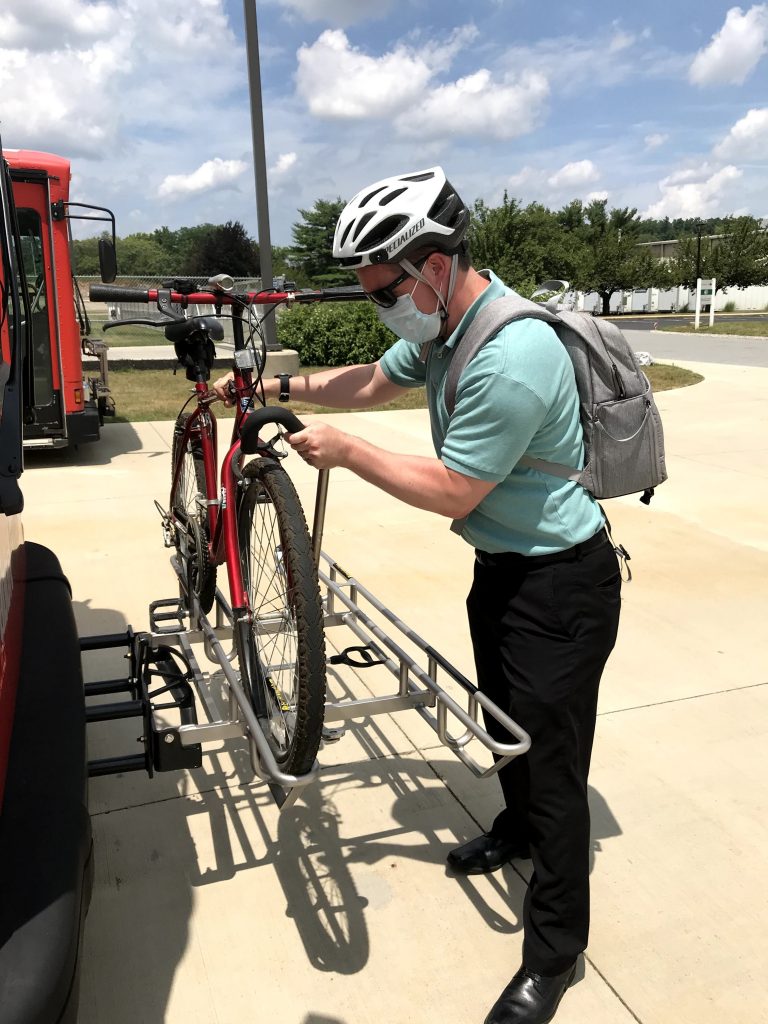 Bike and Bus Your Way Around Town
Did you know that you can take your bike on the bus for free with our local transit agencies? It's a great way to cover more ground and get your exercise in! One of the problems facing many who commute is what we call the "last mile". The last mile is when your bus route takes you close to where you are headed, but there is often still that last mile to cover to get to your job. Bringing your bike on the bus can help solve that problem.
According to Capital Area Transit, bringing your bike on the bus is a "an alternative to pedaling your entire route, to avoid inclement weather, or to overcome other obstacles like hills and crowded city streets." Many people would like to spend more time biking for their commute but might not feel safe on certain high-volume streets or may face obstacles like a highway or commuting on dark mornings. Taking your bike on the bus solves these problems! Busses can travel safely through crowded or dangerous roads in all weather and lighting.
Lebanon Transit has a great fact sheet about the effects riding the bus can have on the environment and your health. There are several benefits including:
One person switching to public transit can reduce daily carbon emissions by 20 pounds, or more than 4,800 pounds in a year.
A single commuter switching his or her commute to public transportation can reduce a household's carbon emissions by 10% and up to 30% if he or she eliminates a second car.
Americans living in areas served by public transportation save 646 million hours in travel time and 398 million gallons of fuel annually in congestion reduction alone.
Without public transportation, congestion costs would have been an additional $13.7 billion.
Households that use public transportation and live with one less car can save on average $9,000 every year.
Now that you're ready to try biking and bussing together, how do you load your bike? Well, it's quite easy! rabbittransit and the other agencies all have similar racks and loading your bike is as easy as 1 – 2 – 3.
"Load Your Bike On The Bus In A Snap
Please have your bicycle ready to load and free of any loose items … inform the bus operator that you will be loading your bike.
 At the front of the bus, grab and squeeze the bicycle rack handle, then lower the rack out and away from the bus.
 Lift your bike onto the rack and align its wheels into the wheel wells closest to the bus.
 Secure your bike by lifting and setting the support arm over your bike's tire, and you're done!
When getting off the bus, inform your driver that you will be unloading your bike. To unload your bike, simply reverse steps #2 and #3. Remember to put the bike rack in its upright and locked position if you are the last to use it."
You can also view an instructional video at Red Rose Transit Authority to see exactly how it's done.
Of course, everyone is still concerned with COVID-19. We recommend you read up on CDC guidelines for safe travel on public transit. One of the most important things to remember is to "check with local transit authorities for the latest information on changes to services and procedures, especially if you might need additional assistance." This will ensure that your route is up and running and what their current schedule looks like.
You can find a complete list of our local transit agencies on our website or in our Commute PA app with links directly to each agencies page. And don't forget to record your multi-modal bike & walk trips during our Bike Week and Walk Like a Boss campaign coming up September 20th – 26th for a chance to win some great prizes. These include a $50 Gander Outdoor Gift Card, a $25 Dunkin' Donut Gift Card, a $50 Dick's Sporting Goods Gift Card, and a $25 Amazon Gift Card. All you have to do is sign into your profile and record your bike or walk trip during that week to be entered!
And if you are recording your green trips regularly in Commute PA, you are eligible for our Emergency Ride Home program. Commuters who share a ride to work, use transit, walk or bike have a common concern, "What do I do in an emergency?" Emergency Ride Home allows you to take an alternative method home (taxi, Uber, Lyft, etc.) in the event of an emergency, sickness, unexpected overtime, or transit outage and you can be reimbursed a maximum of 6 times and up to $100 per ride a year for the cost of your emergency ride.