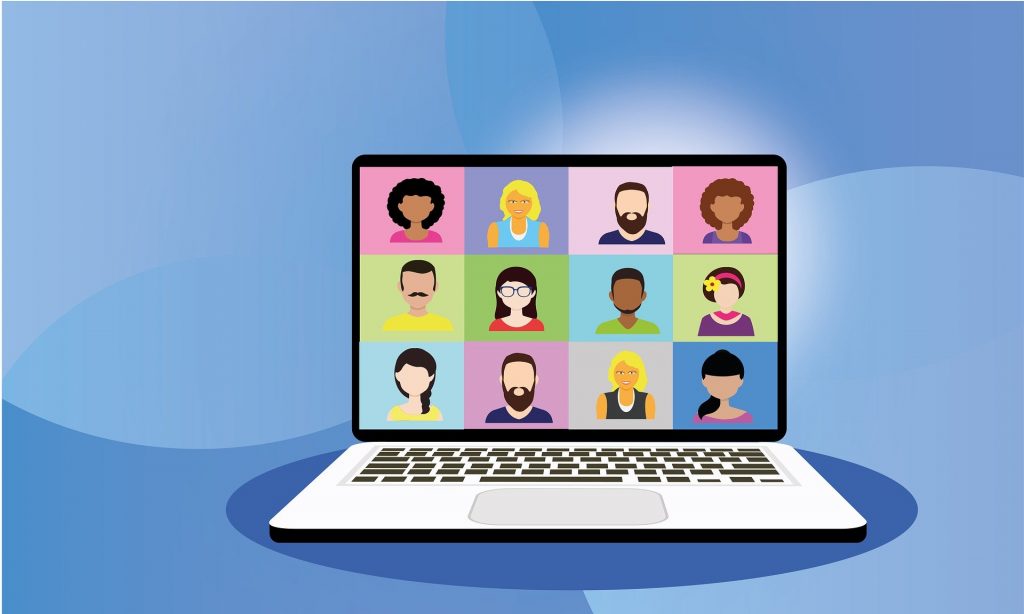 10 Tips for Successful Virtual Meetings & Presentations
As we move forward post COVID-19, we are seeing a brave new world of virtual meetings.  We've all been there, just trying to do our jobs the best we can at home under unusual circumstances.  Using Zoom or Teams or Whiteboard or Skype for meetings.  Then the thing happens.  Kids. Kittens. Dogs. Neighbors.  Roommate.  Or that now infamous poor woman who forgot to turn off her video when she went to the bathroom.
Looking forward, it's important to have some best practices in mind for your virtual meetings.  Teleworking isn't going away any time soon, in fact, it may become the new normal.  Flexible schedules have been proven to improve employee satisfaction and productivity.  Here are some tips from Zoom and the Harvard Business Review to make sure your virtual meetings and presentations are fun, engaging, and memorable.
#1 INTRODUCTIONS ARE KEY
Make sure that all key players and presenters are properly introduced at the beginning of the presentation.  If you're holding a meeting or mixer, give everyone a minute to introduce themselves, who they are, and what they do.  Just like an in-person meeting, introductions create a sense of comradery, friendliness, and engagement.
#2 TURN ON THE VIDEO
Seeing your colleagues faces increases your connection.  Don't fall victim to the temptation to work in your pajamas.  Dressing the part increases your sense of work normalcy.  "Video makes people feel more engaged because it allows team members to see each other's emotions and reactions, which immediately humanizes the room. No longer are they just voices on a phone line; they're the faces of your co-workers together, interacting." – Harvard Business Review
#3 TURN OFF MUTE
Mute has its place in meetings – letting us talk to the dog in our silly dog talking voice without our coworkers thinking we're completely nuts.  But in all honesty, it just exacerbates the problem.  We have all seen our coworkers' mouths moving but haven't heard them speak.  Alert your friends if this happens!
#4 WHAT'S THAT IN THE BACKGROUND?!?
If you're like me, your home office is probably a bit messy.  Home offices often double as guest rooms or art studios.  Best practices are to blur the background if you can't physically clean it up or choose one of the fun backgrounds many video conferencing platforms are offering.
#5 LOOK AT THE CAMERA NOT YOURSELF
How we present ourselves is a big part of our lives.  In a virtual meeting setting, you must be mindful of not only HOW you look, but WHERE you look.  You need to engage your meeting participants and even though its virtual, eye contact makes a world of difference.
#6 HAVE FUN
Meetings are boring.  We all know that.  But you can keep them fun and engaging.  Make it special with themes.  Baby photo contest.  Trivia.  Most embarrassing picture.  Sports fanatic. Scavenger hunt.  The ideas are endless – one company was even offering their llama for rent to join meetings!  Something as simple as a virtual potluck or happy hour keeps your team connected, happy, and engaged.  A happy team produces positive results.
#7 BAN MULTI-TASKING
Distractions are common in meetings and working from home can increase the temptation to check your phone or knit a scarf during a virtual meeting.  Encourage your participants to eliminate all distractions and focus on the task at hand.  This increases focus and productivity.  According to studies, 37% of multi-taskers lose track of the information being discussed in the meeting, while 31% have trouble retaining the information.
#8 ROUND ROBIN RESPONSIBILITIES
Keep your participants engaged by assigning responsibilities and rotating them regularly.  Whether it's keeping minutes, presenting the safety moment, running the ice breaker, or giving introductions.  Go around the virtual room and let each person give their input or update.
#9 BREAKOUT SESSIONS
Don't weigh down team meetings with the minutiae.  When new tasks or projects come up, assign team members to breakout sessions.  Talking about task specific details that don't involve the whole team can cause disengagement from meeting members.  Give your team members agency to take control of their projects.
#10 FEEDBACK & FOLLOW-UP
Just like a good meeting or presentation starts with planning and execution, it ends with feedback and follow-up.  If you are leading the meeting, stick around at the end to ask and answer questions.  Follow-up within a few days with a recording of the presentation or minutes to the participants or send a survey to provide feedback on the effectiveness of the material.  And it may sound corny but watching yourself present afterwards can provide valuable insight into how you present yourself, your strengths and weaknesses, and what you may be able to improve the next time around.
Virtual meetings and presentations are key to continued telework success.  Following these tips and brushing up on your webinar etiquette will help you to create quality content that will keep you, your employees, and clients engaged and motivated.  Commuter Services of PA can help you set up your telework, cybersecurity, and flex work policies while guiding you through the process of effective management and execution of virtual presentations and meetings.