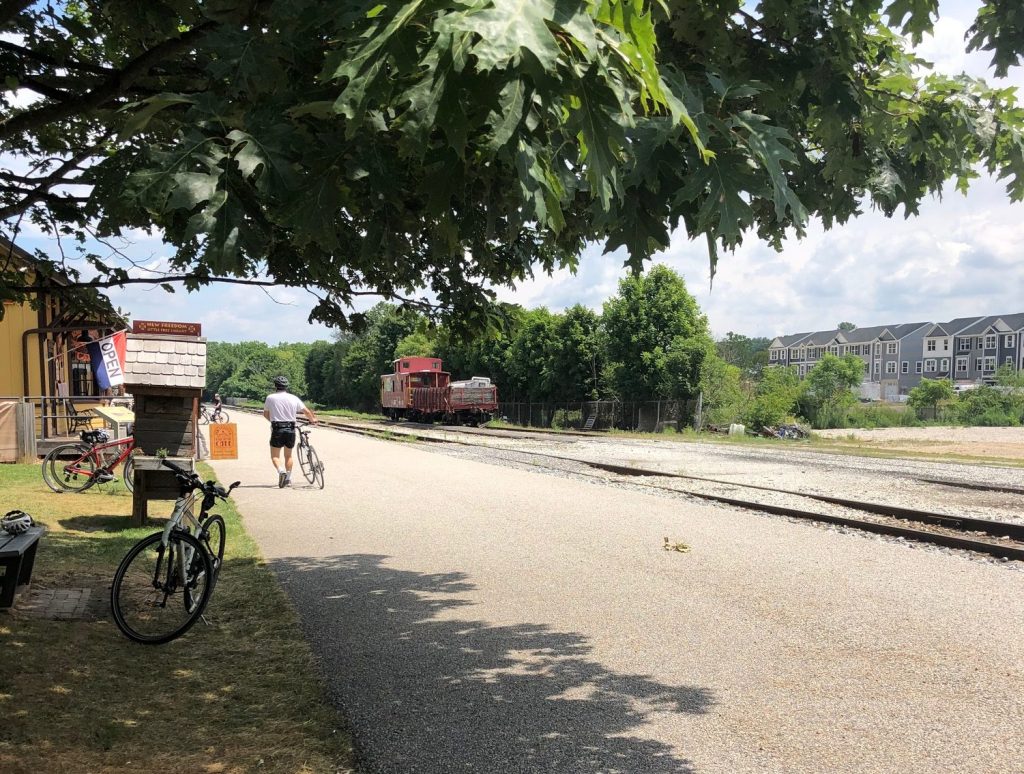 Rails to Trails in PA
With social distancing still in affect and many people continuing to telework during the pandemic, it's time to dust off your bikes and hit the trails.  Luckily for us, we live in Pennsylvania with some of the greatest bike trails in the nation.  Over 4 million people use the trails every year, according to the DCNR, and they're good for everything from biking to walking or jogging to walking your dog or exploring the outdoors with your kids.
Many gyms are still closed, and people are tired of being stuck in their homes.  Rail Trails provide the perfect outlet to get outdoors, exercise, and maintain a healthy distance from others.  In addition to increasing mobility and access, PA is home to 181 rail trails totaling 1,891 miles.  A lot of vacations have been cancelled and people are opting for stay-cations instead.  Visiting a Rail Trail not only gets you moving but provides the opportunity to explore our area's beautiful forests, cities, and landmarks.
In our area there are numerous choices for a scenic trip along a trail.  For a comprehensive list you can visit PennDOT's Bicycle Route Map which is interactive and informative.  The Heritage Rail Trail in York may be the most expansive and well-known.  Running along the Codorus Creek from northern York County into Maryland it crosses over 14 municipalities and you can see anything from bald eagles to unique architecture to tunnels and boulders.  Whether you're cruising through York City or headed south to Maryland from Brillhart Station there's something for everyone.  You might even find a Christmas tree in July with painted rocks as presents.  Check out PROPA – Painted Rocks of Pennsylvania for more info and clues.
A little further north in Harrisburg you can find the Greenbelt.  Not that messy traffic jam down in DC, but a 20-mile path linking parks, neighborhoods, and landmarks around the city.  According to Susquehanna Style "close to half a million people use the Greenbelt annually…including commuters and recreational users ranging from bikers to runners, dog walkers, and bird watchers."
If you want to check out the scenic Cumberland Valley and take an east/west adventure, take a look at the Cumberland Valley Rail Trail.  Running 13 miles from Shippensburg to Newville along Rt 233, you will see a variety of birds and wildlife.  Their website says, "This corridor of woods and shrubs adjacent to farms and grasslands provides habitat for dense populations of wildlife including Belted Kingfisher, Cedar Waxwing, Downy Woodpecker, Eastern Meadowlark, American Kestrel, Great Horned Owl, Indigo Bunting, Sharp-shinned Hawk, Common Yellowthroat, and red fox."
In Lebanon County you visit the LV Rail Trail.  Along this trail you can see the Lebanon and Cedar Crest High Schools, the Lebanon Expo Center and Fairgrounds, Cornwall Furnace, Governor Dick Recreation Area, and the State Game Lands.  As with many trails, the greenway provides important wildlife habitat through our quickly developing landscape.
Have you ever found a gnome village?  If you've been on the Warwick to Ephrata Rail Trail, you may have stumbled upon this delightfully whimsical creation.  At 5.6 miles, this trail runs along an abandoned Reading Railroad corridor spanning downtown Ephrata, Akron, and rural Warwick.  Be sure to keep your eye out for gnome homes and Nibbles McGibbles when you're passing through Akron.
When you feel the need to get outside and need some new suggestions be sure to visit Explore Pennsylvania Trails for a comprehensive list of PA Rail Trails & Hiking Trails.  Don't forget to record your leisure trip or bike commute in Commute PA to earn rewards for taking a green trip.  And one of the biggest concerns about exploring new areas is where to park your bike.  For your convenience, Commuter Services of PA has a comprehensive bike rack map so you can ride, park, and enjoy.  Get moving, stay safe, and tag us on social media and we will re-share your photo or video!  We can't wait to see what kind of adventures you get into this summer!