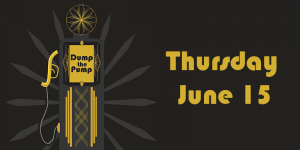 National Dump the Pump day is Thursday, June 15, 2017.  This national day of awareness focuses on the benefits of using a smarter commute mode such as carpooling, taking public transit, biking, vanpooling, walking or teleworking.  'Dumping the Pump' helps to decrease fuel dependency, minimize traffic congestion, reduce your carbon footprint and save money on typical commuting costs such as gas, maintenance, insurance and parking.  Celebrate with us by 'dumping the pump' and see how you can save money and/or improve your quality of life.
Commuter Services of Pennsylvania is holding an essay contest to encourage commuters to 'Dump the Pump.'  In 250 words or fewer, tell us how you have saved money and/or improved your quality of life by using a smarter commuting option to work, instead of driving alone.  All entries must be received by Friday, June 23.  The winner will be selected by a panel of judges comprised of the Commuter Services Board of Directors and staff.  The grand prize winner will receive a Kindle Fire and have their photo and story featured on our website.  Additional runner-ups will also be selected and receive a prize pack and recognition on our website.
Show us how you choose to 'Dump the Pump' by posting a photo or video on social media, tagging us and using #PADumpthePump17.
Dump the Pump day is sponsored by the American Public Transportation Association.