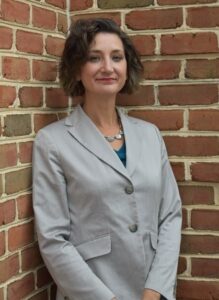 Employee Spotlight: Heather Klinefelter
Heather Klinefelter is the newest member of the Commuter Services team. She focuses on community outreach in York, Adams, and Dauphin County. Find out more about Heather in our new feature – Employee Spotlight!
How long have you been with Commuter Services?
I've been with Commuter Services for nearly 3 years. I have a strong background in environmental planning and infrastructure.
What about the mission of Commuter Services of PA speaks to you?
My entire adult life has been working to improve the environment in our community. Central PA has some of the worst air quality in the nation, and anything we can do to improve that and leave the earth a better place for our children is a mission I want to be a part of.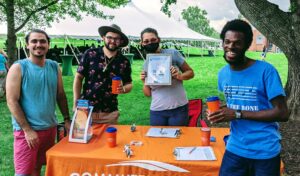 Heather at a student orientation fair at York College.
Tell us a little bit about yourself and your family.
I'm York County born and raised and graduated from Penn State York with a degree in Communication. I live in York City with my two boys – Liam, 12 and Finn, 15. I have 3 cats – Sylvie, Bootsie, and Prince Buttercup – one naughty dog – Ollie – and one Russian Tortoise – Scoot. We enjoy hiking, camping, and gardening. We spend a lot of time volunteering with the Lower Susquehanna Riverkeepers and events downtown.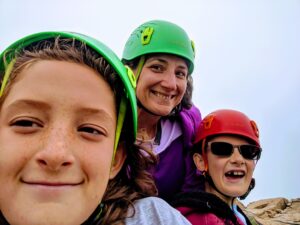 Finn, Heather, and Liam rock climbing on Otter Cliffs in Acadia National Park.
What is your great passion in life?
I have many passions in life, so this is a difficult question. Of all of them, near the top of the list is restoration projects along creeks and wetlands. One of the most successful we've completed is the restoration of Kiwanis Lake in York City. It's one of the only Audubon Certified Urban Rookeries in the United States home to endangered black crown and yellow crown night herons, great blue herons, and egrets.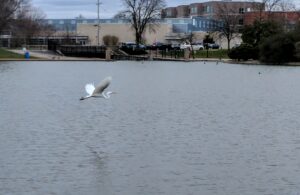 An egret flies over Kiwanis Lake in York City.
What would be your words of wisdom to yourself when you were a teenager?
Don't be afraid to be weird and passionate. It will get you lots of places in life.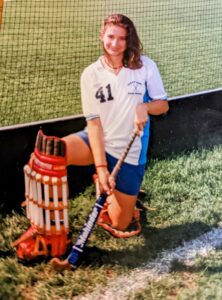 Heather played 4 years of field hockey in high school.
Where do you see yourself in 15 years?
In 15 years, I would like to be continuing to improve our communities and environment through work and volunteering. Anything I can do to leave the world a better place for my children.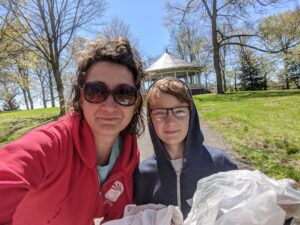 Heather and Liam cleanup their neighborhood on Earth Day.