Telecommute Spotlight
By Heather Klinefelter, Outreach Specialist
As we enter year 2 (3?) of the pandemic, Commuter Services wants to highlight our longtime telecommuters!  We reached out to telecommuters – people who work at home remotely a few days a week or full-time – via email and asked them to answer some questions about what they thought about it.  Meet our teleworking all-stars!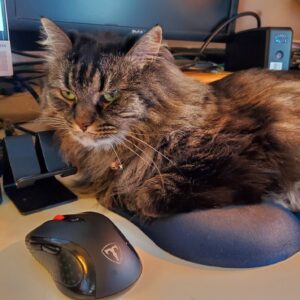 Cindy S's broke coworker, Lizzie, likes to sit in on meetings.
Cindy says:
In 2017 I started telecommuting 2-3 days a week. By 2019, I was only in the office one day a week. I have been permanent Work from Home since March 2020.
My favorite thing about telecommuting is:
Climate control. I can have my work area at home as chilly as I desire. Also, your pets and retired husband do not get lonely.
Andrew R, who works for DCNR (PA Department of Conservation and Natural Resources) as a forester, loves working from home:
When I'm working, I'll often catch a 30 second glimpse of wildlife outside my window. In the winter it's most often a turkey vulture riding the thermals, or a junco at the birdfeeder; in the summer it's most often a hummingbird feeding on my native trumpet honeysuckle vine! Either way, it's incredibly refreshing and reminds me of why I work for a conservation organization. I've really enjoyed keeping track of how much carbon emissions I've avoided by telecommuting! I'm up to approximately 5.4 tons of CO2 emissions saved over the last two years!
Plus, you get these benefits!
Who can complain about looking just past your computer monitor at work and seeing a black-throated blue warbler foraging in your native trumpet honeysuckle? Or your children foraging in your native serviceberry shrubs?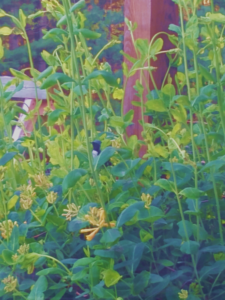 Andrew R. spots a rare black throated blue warbler in his backyard during working from home.
Tracy R. has a different perspective:
My telecommuting started on March 17, 2020. On the 16th I had to go into the office to shut it down for what we thought at the time was going to be a few weeks at most.  Unfortunately, I am not as much of a fan of the whole telecommuting idea for myself though I am a fan of it for others since I like to have the office all to myself.  When the snow is falling, or the rain is pounding not having to go out of the apartment to brave the elements is a plus! Another good thing for me about telecommuting is that I can control the temperature from home even if I can't control the amount of food at my disposal. Now some of the first few tips that I learned when the pandemic started were to wake up and get to bed at the same time every workday, lastly get up and get dressed as if you are going out the door to work. Here is a picture from my personal watercooler… as you can see there's no one to gossip which is not a problem for me.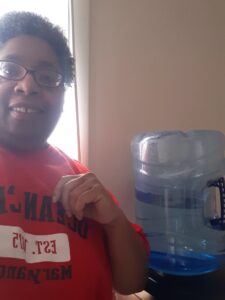 Audrey S. has a message for all the introverts out there:
As an introvert, I love being able to control the noise in my environment and not having to overhear gossipy or negative conversations.  Which is not to say I'm a paragon of virtue who never did/does this, but I don't feel as mentally or physically tired when I log off a telecommute day versus having to physically go in the office and be around people.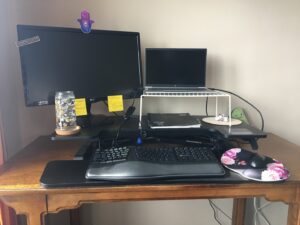 If you are a telecommuter don't forget to record your trips in Commute PA and send any testimonials you have letting us know what you like most about working from home.  We'd love to have you show us your workspace.  Reach out via Email or Facebook.